Patients and visitors alike rely on intuitive and up-to-date maps to obtain valuable information and navigate complex healthcare facilities. Now, more than ever, it's important to have touchless solutions for visitors to find their way through hospitals, with as little stress as possible.
Digital indoor maps help users pre-plan their hospital visit and efficiently navigate while on-site, greatly reducing the chaos felt by these trips. Digital maps also reduce the amount of time that volunteers spend giving directions, freeing them up to provide other valuable services.
The Mappedin platform makes edits to your location data and venue maps simple, so staff and visitors can always rely on accurate updates. Re-purpose your indoor map for wayfinding, contact monitoring, asset tracking, compliance tracking, and much more.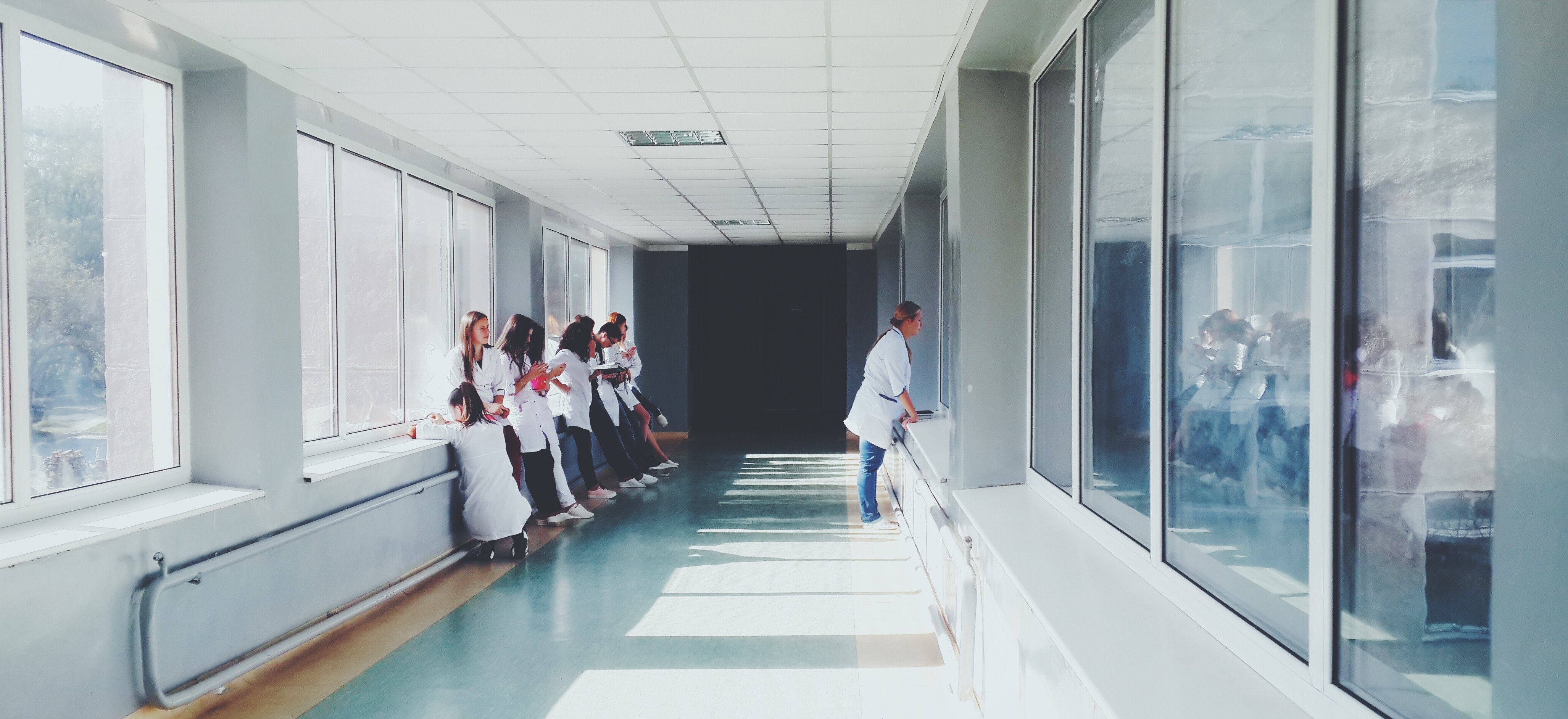 Benefits of Digital Hospital Maps
3D Interactive Maps
Pan, zoom, and rotate maps on all platforms for location context and maximum hospital discovery
Powerful Navigation
Browse category listings or search for your destination by keyword, department, and more
Real-Time Updates
Ensure your maps are always up-to-date and see edits reflected across all platforms in real-time
Accessibility Mode
Set accessibility mode as the default navigation for routes that prioritize elevators and ramps
Events & Promotions
Highlight events and promotions through the map to help hospital visitors access key information
Insights & Analytics
Gain a better understanding of how patients are wayfinding with the analytics dashboard and reports
Open Source Contact Monitoring Software
Mappedin is creating safer indoor spaces for staff and visitors during COVID-19 with an open source Contact Monitoring solution. This application and its components have been open sourced to encourage all venues, technology providers, and partners to incorporate contact monitoring into their strategy for safely reopening the built environment.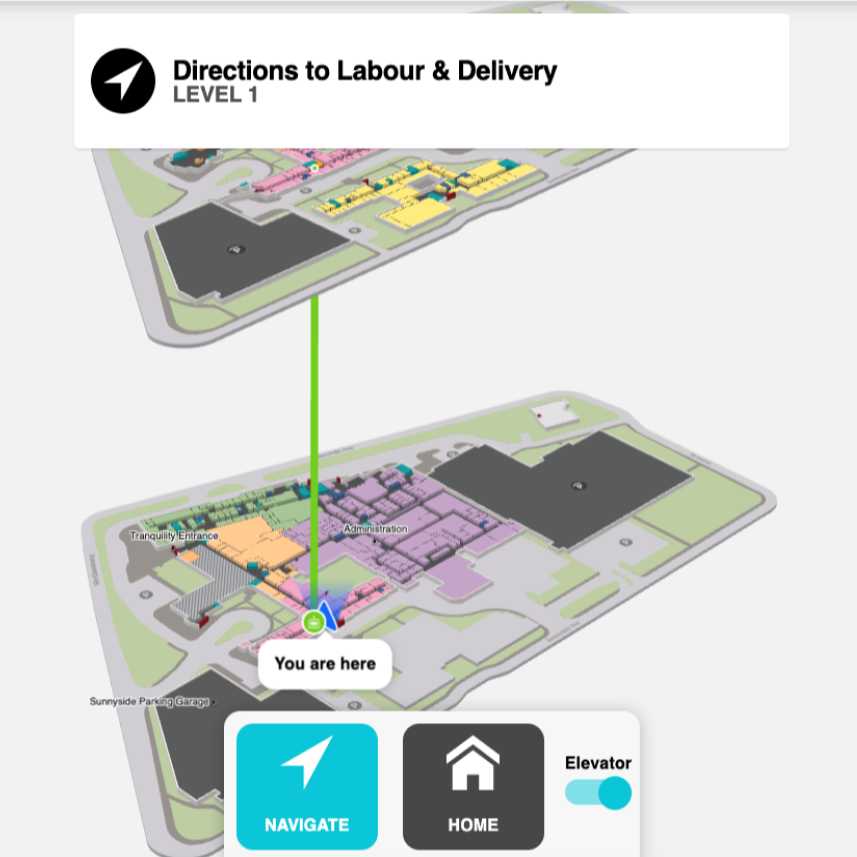 Accessibility Mode
Accessibility mode is an important feature for maps of hospitals. When patients are provided multi-floor directions to arrive at their destination, accessibility mode will prioritize a path to use elevators and ramps, rather than stairs and escalators. On our Digital Directory solution, this also lowers important information and controls to help make the platform easy-to-use. Accessibility mode can be turned on by default for healthcare facilities.
Touchless Directions
Mappedin's touchless directions makes hospital wayfinding even more accessible. Showcase a QR code on the homepage of your Digital Directory or printed solutions so that patients and visitors can simply scan and take the digital map experience on-the-go without any contact.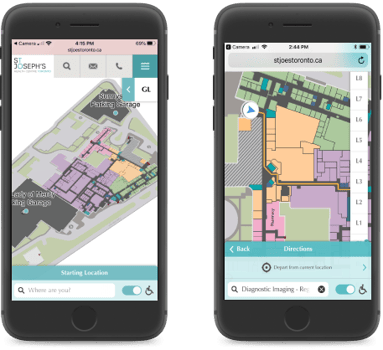 Smart Search for Hospitals
Mappedin's indoor maps include AI-driven Smart Search. As users type in the search bar, predictive results appear and minimize the number of keystrokes needed to find a location. Patients arriving at the hospital often have varying degrees of information so Mappedin's solutions for healthcare allow them to search by doctor, department, procedure, and more.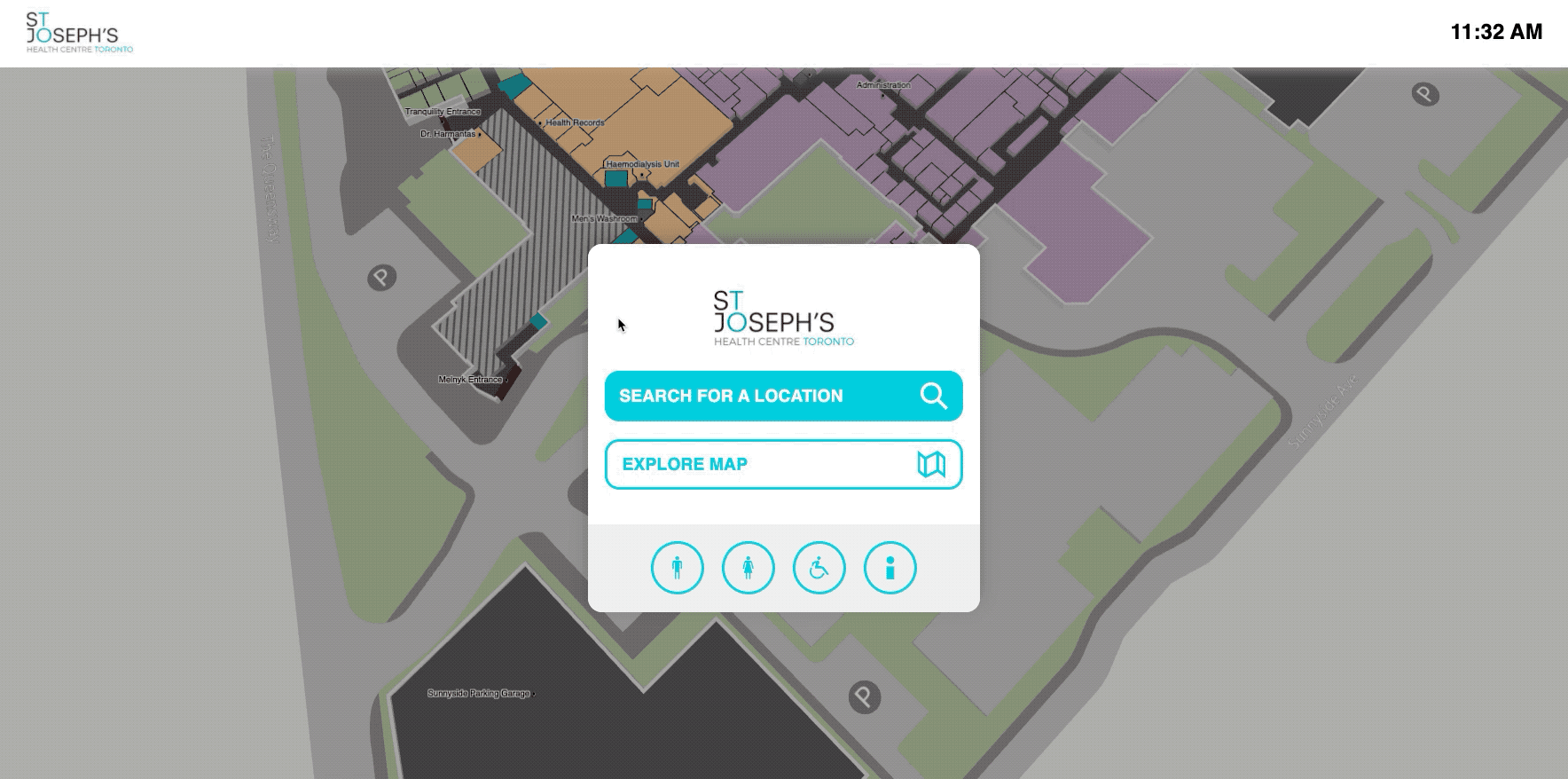 Indoor Positioning
Turn-by-turn directions offer a powerful experience for wayfinding in hospitals and allow patients to see their precise location in a venue through the digital maps. This experience can leverage Mappedin's infrastructure-free indoor positioning with our Responsive Web App or can be enabled in combination with indoor positioning hardware through our Mapping SDKs.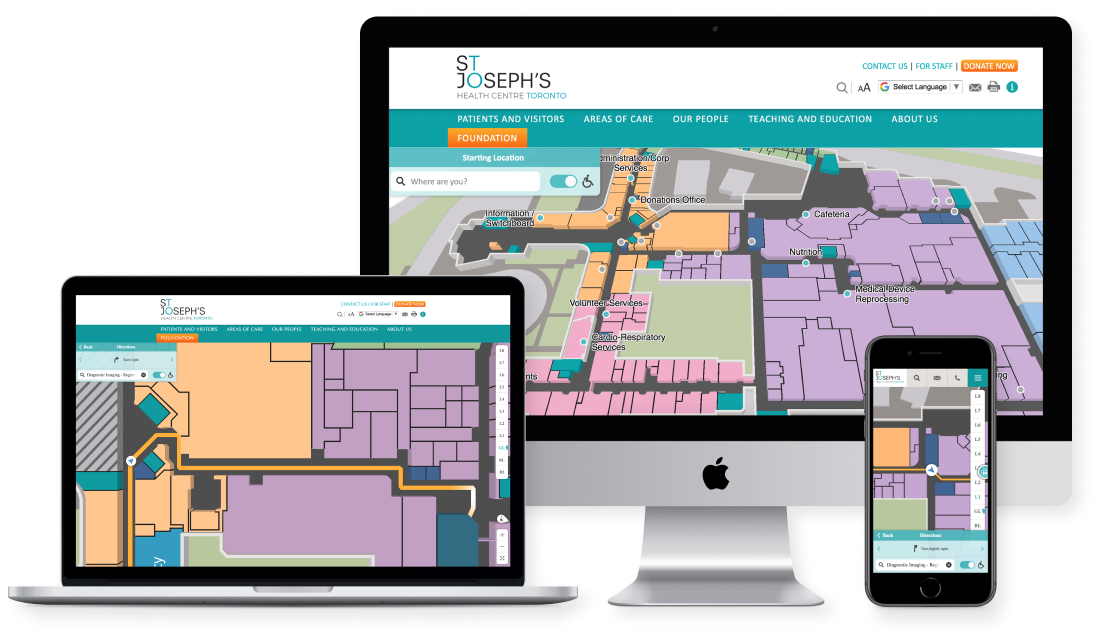 One Map, Everywhere
Provide a consistent mapping experience across all platforms and improve the user experience for patients, visitors, and staff. Mappedin's indoor mapping platform supports wayfinding, asset tracking, compliance tracking, and much more. Enable powerful digital wayfinding in your hospital across web, mobile, and directory devices.
Simple Map Management
Maintain all of your venue maps and location data in the Mappedin CMS to ensure that patients and staff are provided with the most up-to-date information. The easy-to-use Map Editor tools make it simple to update the appearance of the map, create pop-up locations and events, add custom fields and categories, close down specifics areas or hallways and more, all to help people find their way when timing is so important.